Every now and then, we will have free items available to order from The Lanyard Shop. You will only need to pay the postage cost (£1.99). Any free items will be displayed below. If there are no products listed below, there are no free items currently available.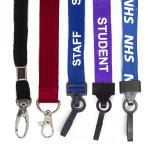 Some products will be free with £0.00 pricing on the product page. Other products may show their original price with a discount code displayed on this page. You will need to apply the discount code shown on this page to the basket or checkout form.
Please do not contact us to enquire about free product availability, they will always be displayed here if available.
Free Custom Lanyard Samples – If you are enquiring about our custom lanyards service, please request a quote and include a request for previous custom lanyard samples.
Free Lanyards or Free Holders Currently Available
Please check back later, bookmark this page or subscribe to our newsletter for updates.