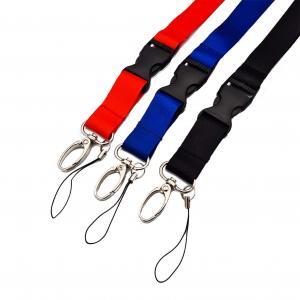 What is a Lanyard? What is a Lanyard Used For? If you've come here for a Dictionary Definition of a lanyard meaning, you're in the wrong place! Here's a link for it just in case you're interested (or bored). Instead, we'll explain what a lanyard is, some lanyard features, what a lanyard is used for and the different types of lanyards available to purchase from our website.
What Is a Lanyard?
What's a Lanyard? A lanyard is a strap, usually made from polyester or rPET (recycled plastic) material. There are different ways to wear a lanyard, but you usually wear lanyards around your neck. They are designed to hold and display your ID or access control card.
Most lanyards are around 45cm in length when connected. You might find some around 60cm in length.
Lanyards are a great way of promoting your company or brand. They can also help you identify who should and shouldn't be in your building!
What Is the Connector on My Lanyard?
Most lanyards have a safety breakaway connection. The primary purpose of this is to ensure the safety of the wearer. A safety breakaway will – quite simply – breakaway if the lanyard is pulled quickly or gets caught around your neck.
The usual number of safety breakaways varies from one to three.
If you have purchased your lanyard from us, you will see the lanyard has at least one safety breakaway fitted to it. Some public sector organisations require two or three safety breakaways as a minimum. Most of our NHS lanyards are equipped with at least two safety breakaways.
You won't find any of our lanyards available without a safety breakaway.
What Are the Different Lanyard Clips?
Your lanyard will probably have a clip at the bottom. You will use this to connect your ID card/access card or ID card holder to your lanyard. The material varies, but it will usually be a metal clip or a plastic clip.
The most common types of clips are:
Plastic Clips
Metal Clips
Badge Reels
They all perform the same job, but each has advantages and disadvantages.
Plastic Clips
These clips are the most cost-effective option when making a lanyard. They can fit into most card holders or slot punches but can be fiddly. They can be slightly more fragile than metal clips, so they could break easily if trodden on, twisted or pulled quickly.
Metal Clips
The most used lanyard clip. Some metal clips are fitted with a trigger to open the clip. Others (usually called Lobster Clips) rely on applying pressure to open. These clips are slightly easier to connect to your ID card or badge holder.
Badge Reels
These are the least commonly used clip. The badge reel clips use a retractable "yo-yo" cord. The average length is 80cm when fully extended. They are slightly more expensive to produce (even more so if you want a logo or text added), but they are great for use with access control cards.
If you are in an environment where you regularly have to tap in and out on doors and lifts, badge reels could be the best option for you.
The three clips above aren't the only clips available for lanyards, just used with our most popular lanyards.
What Are the Types of Lanyards?
As well as being asked What is a Lanyard? We also get asked about the different types of lanyards. There are three different types of lanyards you can purchase. At The Lanyard Shop, we sell all of them!
Our plain lanyards are the cheapest lanyards we sell. They are safe and secure (fitted with a breakaway) and have metal clips like our other lanyards. They are also made from a comfortable polyester material (10mm wide or 20mm wide).
Our 10mm lanyards are available in 12 colours. The 20mm lanyards are available in 10 colours (more available soon)!
As described by a previous customer, our "pre-printed lanyards are less boring than the plain ones". That's not the only perk of our pre-printed lanyards!
You can quickly identify students, staff, visitors and others. The text is usually printed in bold and will stand out well at a distance. Most pre-printed lanyards have text visible on both sides.
Personalised lanyards/custom lanyards are created to your desired specification. You can choose the width, the lanyard colour, the clip type and the number of safety breakaways. We can print your logo and text onto the lanyard. Some printing methods allow multiple colours and gradients at no extra charge.
Hopefully, this post answers the age-old question "What is a Lanyard?".
All of our lanyards can be ordered online via our website. However, if you have any questions or want a quote, please contact us!